Digital World 2020
Experience the first-ever biggest virtual tech fest in Bangladesh. "Digital World 2020" is the biggest & flagship ICT event of Bangladesh organized by ICT Division. It is one of the largest ICT expositions and knowledge sharing platforms in South Asia.

Visit AKTL virtual stall in Digital World 2020 under "Business Processing Outsourcing" zone in Exhibitors' Gallery.
For registration, please visit: Digital World 2020
To know more about our products and services, please visit: www.aktelecom.net & infocomltd.net
About Company
A.K. Khan Telecom Ltd. (AKTL) is a fully owned subsidiary of A.K. Khan & Company Ltd (AKK). A.K. Khan & Company Ltd. is one of the oldest and most renowned private sector organizations in Bangladesh established by Mr. A.K. Khan in 1945. AKK in the 1950s under the visionary leadership of its founder Mr. A.K. Khan established Insurance Company, Financial Institution as well as manufacturing industries in Textiles, Jute, Plywood, Tannery, Heavy Electrical Goods, Shipping, and Irrigation. In 1980s the Company started to grow through Joint Ventures (JV) with renowned Multinational Companies in Textile, Telecommunication and Deep Sea Fishing.
AKTL formerly known as AKTD, started its Telecom distribution and supply chain operations business as a SBU under A.K. Khan & Company Ltd. AKTD was converted as a separate entity named A.K. Khan Telecom Ltd. (AKTL) in 2012. Currently, AKTL is engaged in Telecom distribution, Network solution, ISP, ASP, IPBAX, Call Center solution, Security & Surveillance and other communication operations, AKTL received ISO 9001:2008 Certificate by Intertek on the 12th of August, 2014.
Distribution & Retail
AKTL is the largest distributor of the Robi Axiata Limited in Bangladesh. Operating exclusively in the Chittagong Region, AKTL has a setup of nearly 1,400 employees covering 50,000 point of sales (POS) with 66 offices, showrooms and customer care points... Read More
A strategic business unit of AKTL, AKTouch is a retail chain of electronic goods in Chittagong. AKTouch provides the latest mobile devices, has great accessibility spread over its 30+ retail outlets with the aim of providing its customer with in depth product knowledge. Read More
Partners

Products & Solutions
Our offering of Unified Communications and Collaboration (UCC) solution architecture is designed for multimedia solution under a single platform allowing for flexible deployment...Read More
The Internet of Things (IoT) is a system of interrelated computing devices, mechanical and digital machines, objects...Read More
Facts
168
Hours of Support per week
Award & Certification
AKTL places great emphasis on the quality, reliability and security of the services it offers. It does business in full compliance with the international standards on information quality and security. AKTL is the ISO 9001-2008 QMS certified distributor. The company was certified in 12th of August, 2014.
Security is of paramount importance to AKTL and its customers, and ISO 9001:2008 is the most widely-accepted certification available for supporting information and physical security and business continuity.
Audits are conducted regularly that include tests of security and of the CCTV system.
Access to physical facilities is restricted and physical security processes, such as restricted/named access (access control system) are enforced consistently.
Risks and threats to the business are assessed and managed.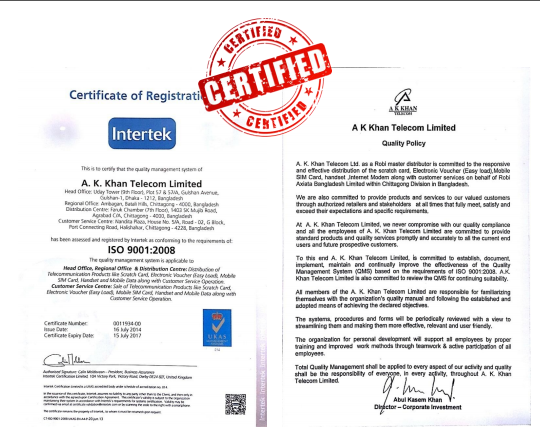 Why Customers love AKTL
A K Khan Telecom Limited(Infocom Ltd) has undoubtedly proven their reliability and market competitiveness. We do appreciate the sincere efforts to develop NUK's website.
-Mashuda Khatun Shefali,
Executive Director, Nari Uddug Kendra.
Few Words From Our Management
"Proper utilization of technology can change the profitability of a business. We have seen its power, and also suffered when it is wrongly applied. Thus, our clients can add value from our expertise"
ABUL KASEM SHAMSUDDIN KHAN CHAIRMAN
"We are committed to provide products and services to our valued customers at all times that fully meet, satisfy and exceed their expectations"
ABUL KASEM KHAN MANAGING DIRECTOR
Team
Shahadat Hossain, FCA
Head of Finance (HOF)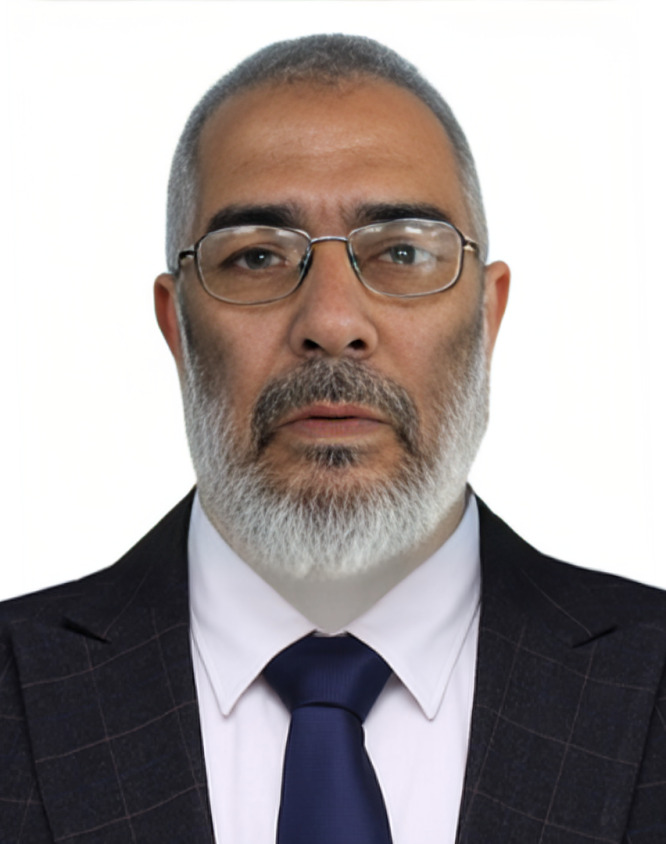 Abdur Rashid Sikder
Deputy General Manager, Accounts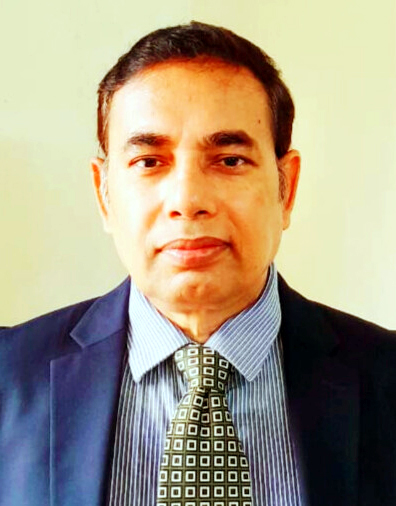 Tarun Das
Chief Technology Officer
Farial Ahmed
Sr. Manager, Sales & Marketing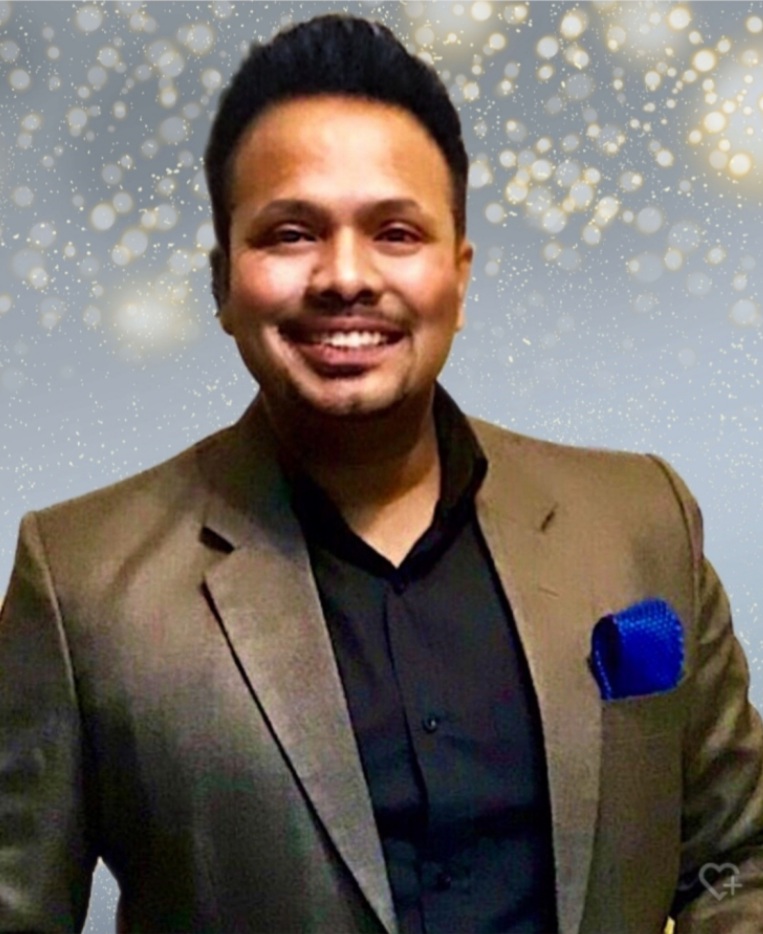 Rashedul Islam
Sr. Manager(Head of HR & Admin)
Mir Mainul Hossain
Manager, MD' Secretariat